Tyre Service

From our workshop in Ørsnes we can deliver affordable summer tires and winter tires for cars and vans.
We provide most tire brands.

We are probably the most reasonable on deck in Svolvær | Lofoten, supplying tires in all qualities and price ranges - ready fitted on car!

Contact us for a great deal on your next car tires:
Morten Kajander
Tlf. 905 83 987
°C
YAHOO_WEATHER_
Humidity: %
Rent a Car Lofoten
Welcome to Lofoten
- and one of the world's most beautiful archipelagos!
On a business trip or vacation in Lofoten?

At Rent a car Lofoten Svolvaer (used car rental) you will find a

good selection of cars to affordable prices! With car hire, you

have ample opportunities for wonderful experiences in Lofoten all year. The fishing villages lie like pearls on a string, and guests can easily find white sandy beaches and deserted nature idyll.

Cheapest in Lofoten Hire

We have a large number of rental cars in most categories:

passenger cars, station wagon, van, as well as large truck for moving and other heavy transport.

Service and security - we offer 24 hour security all year round!

Tel: (+47) 476 43 560
Mail: post@rentacar-lofoten.com
---
Sales of used cars | Svolvær | Lofoten
We now hawe for sale a plethora of affordable used cars in several price range. The cars are on display at the ferry landing i Osan. Contact us for more information and a test drive.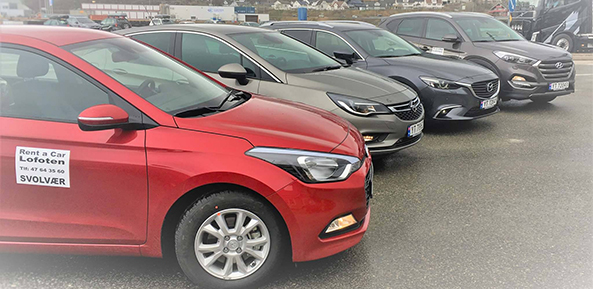 Visit and enjoy all the small, idyllic fishing villages in a affordable car from
Rent a Car Lofoten in Svolvaer.